A Tribute to Frosty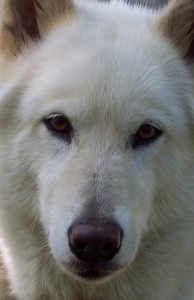 I rescued Frosty from a shelter twelve years ago. The vet told me he thought she was five or six years of age at that time. At one point, an animal control officer that met Frosty in my yard (we live on fenced acreage) commented that, from her experience, she didn't think Frosty had ever had an owner prior to my adopting her. Three weeks ago, we finally had to say goodbye as she slept the long sleep. She lived an incredible seventeen years.
People often think it's 'cool' to have a wolf or wolf-hybrid for a pet. She was NOT a dog and did not act like a dog.

As you might guess, I am someone who deals with a lot of dogs and many, many various dog breeds. I have been around dogs my entire life. Yet, I can tell you that a wolf is NOT a dog and cannot be treated like a dog. The body language and communication is on a completely different level.
I will never regret rescuing this most precious soul. Without question, the most photographed pet we've ever owned, she became an integral part of my family. But with all theses factors and my past experiences, I will still tell you I don't believe wolves or the hybrids should be owned by anyone. They are born to be free.