Service Dog with a Servant's Heart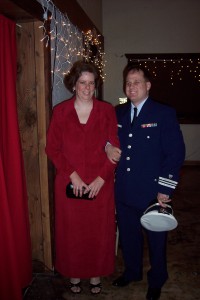 It is with a heavy heart that I forward this memorial letter from my friend, Robert Dittman about the passing of his guide dog, Harriet. A photo of Robert and his veterinarian companion, Mary Kate is attached. Unfortunately, although I have seen Robert and Harriet together often, I never took their picture. Those who wish may donate in Harriet's name to "The Seeing Eye" 1800 524 8835 so the dream of seeing eye dogs can continue into the future.
Harriet was born at the Seeing eye October 31st, 1994 and became my first guide on September 26th 1996. She lead a life full of adventure and loved her work spending twelve years on active duty as a Seeing eye dog retiring in 2007. I would like to share some memories of her if you will permit me.
The first memory is when we first met. I was eighteen, had just graduated high school, and was a flight officer in the Civil Air Patrol (United States Air Force Auxiliary. I went to the seeing eye because I wanted a dog that could keep up with my fast paced lifestyle. When John Keen, her instructor, introduced us, I asked "Where is he?" You see, I had wanted a big German Sheppard named razor, or spike, or butch. He answered "He is a she, and her name is Harriet." I said "Oh, that's a pretty name" hoping to keep the disappointment out of my voice. He told me she was a golden lab golden retriever mix and I thought "great she is not a pure bread dog."
My first surprise came the first time I put her in Harness. John told me "be ready because she is going to pull hard." "yeah right" I thought. When I said "Harriet, Ford!" she pulled me so hard that I fell flat on my face. When I picked myself up and dusted myself off, John said "See, I told you so."
My next surprise came when I was sleeping in the common lounge. John had given me a nickname which I will always think of with a smile. "Ozzie", for Ozzie and Harriet. When he paged "Ozzie, you and Harriet please come down for your next trip" I didn't hear it. Harriet then barked the mother of all barks and I nearly jumped out of my skin. This dog was no wimp.
Harriet and I traveled across the country and even to Canada together. She was always willing to work as long as there was food involved. On one of our trips John and I were working the last route before I was to return to Texas with her and she completely went the wrong direction to walk up the stairs of a diner she had spotted. I asked John "Did you ever go here?" He responded "No, guess Harriet is hungry."
Harriet served her country right alongside me. She is a Chief Master Sergeant (E9) in the United States Air Force, voted by the Chief's association at Randolph Air Force Base. When I became a second lieutenant in the Civil Air Patrol, the non-commissioned officers felt I should have a good NCO to back me up. So, when I was promoted, she was promoted and given insignia and a certificate. When I was recognized by the American red cross for relief efforts after a devastating flood in 1998 that hit Texas, she was also recognized by the Red Cross for providing a playful pet to the children in the shelter. When I transferred as an Honorary U.S. Marine, she took a pay cut to E7 Gunnery Sergeant and went with me. When I joined the United States Coast Guard Auxiliary, she became a K9 Auxiliarist with her own Department of Homeland Security I.D. card.
Harriet lived her life well, and left us well. She crossed the bridge from our home here in Texas and Mary Kate (my Compass because she always keeps me on course, is also a veterinarian. She helped Harriet cross the bridge on September 29th, 2010 at noon, and she said Harriet wagged her tail at the end. Most likely she saw a huge basket of cookies and wonderful things to eat across that bridge.
Harriet is survived by Shorn, George, Mr. Fin, Ishica Ester, Fred, Hermione, and Snickers (my current Seeing Eye Dog.) She was preceded in death by her friends Fergus, Doolin, Calarney, Mia, and Liffey.
She will be missed by all who knew and loved her, and she was a testament to the love and service between guide and handler. I love and will miss you my woofer dog and I'll see you again.