My Mom is Being Deployed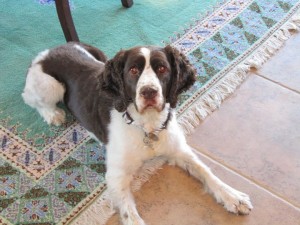 The Furry Godmother is very pleased to have played a part in the touching story posted on FaceBook called, "My Mom is Being Deployed and I Will Be Homeless." After reading the story, Judy, The Furry Godmother, forwarded it to a family that already has a house full of Springers.
Their response was, "What's one more? We want to do our part to help support our service people." Genie and David contacted Heather, Penny's "mom", and the rest of the story is still in the making.
The family that will be taking in Penny, is the same family that sent the photos posted on the Furry Godmother FaceBook page called "Why dogs bite people at Christmas". The Furry Godmother has been petsitting for this family for over a year, spending the night with the four dogs when their parents are out of town. David and Genie have a true heart for dogs and especially for the Springer Spaniel breed. I love happy endings.
UPDATE:
"Heather brought Penny over last Sunday. Everything went well. No growls and lots of playing in the back yard. Freddie is such a goof ball and really only interested in napping. Charlie and Rosie are so into the ball as is Penny. For those three, it was all bout the ball. Ginger was polite, but she may get a little possessive of David. I don't expect any real trouble. Heather will be bringing Penny today with all of her toys and bedding. She wanted a week to say goodby. I'll let you know what life is like with 5 dogs." – Genie